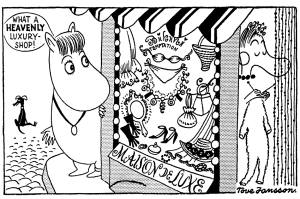 Welcome to Moomin product gallery.
The site that will serve as a showcase for retailers worldwide
We hope that this site also will help to inspire and find collaborations with other licensees.
Make sure to keep your site updated with your latest products.
Administer your site in two steps.
1. Company and contact information Fill out the fields under "Your profile" and upload your company logo. Contact us Order e-mail (the e-mail retailers should use for inquiries and order). e-mail (requried) (Not visible on the site. E-mail address to the one at your company who administer the site)
2. Products Register each product separately under "Products" in the menue to the left. Upload the product image under "Featured image" and fill the text filed with information about the product.
– Please read thoroughly as we will reject images that do not follow the guidelines.
If you have any questions please do not hesitate to contact me.
With kind regards,
Anna-Karin Sallander (anna-karin@rightsandbrands.com)