The popularity of the by Arabia Moomin mugs as collector's items is well-known and documented. People all around the world are obsessed with the colorful porcelain mugs, each featuring different characters or scenes from Tove Jansson's Moomin books.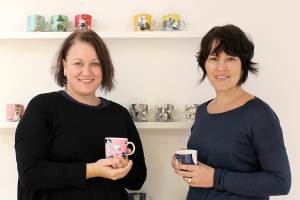 The mugs are of course a very lucrative business and many stores sell them (if you're a retailer yourself and interested in selling Moomin mugs, read more about them and contact the manufacturer here) But none of the stores are as devoted and focused on the Moomin mugs as www.muminmuggar.se (literally translates to moominmugs.se). We at Moomin Product Gallery spoke to founders Caroline and Belinda about the web shop and the infinite allure of the Moomin mugs.
Tell us about Muminmuggar.se
Muminmuggar.se is a web shop for us who cannot have enough Moomin mugs! We have the full range of by Arabia porcelain mugs, Muurla enamel mugs and other Moomin-themed goodies. Muminmuggar.se have all the goods in its own warehouse for fast, reliable deliveries to our customers. We who own muminmuggar.se are named Caroline and Belinda. We have an extensive experience in e-commerce and interior design industry and also own the store www.dukatbord.se. At muminmuggar.se it is us who will help you via e-mail, when you call and often also often collect and pack your goods. With us you will always receive personal service and can be confident with your purchase.
How did the idea for the site originate?
The site already existed, but in 2012 we acquired the domain and the relatively small online store, and has since created one of Sweden's most popular Moomin Shop.
Why do you think there are so many fans and collectors of Moomin Mugs?
Tove Jansson's stories are amazing! All the adventures we get to go on, out on dangerous journeys and then return to the security in the paradisiacal Moominvalley. I think we can all find a figure to relate to and a different healthcarewell pharmacy personality of a character that appeals to us. From one day feeling like a frightened little Toffle to the next day finding Little My's tenacity and strength.
To what do you think Moomins longstanding popularity is due?
Moomin appeals to all ages, but in different ways. If you read a book now as an adult things get a completely different meaning and you will find a whole new depth in the stories. The figures are irresistible and mugs are an easy way to see and enjoy your favorite character daily. Moomin is addictive.
What is your own relationship to the Moomins, are you yourself Moomin fans – or collectors?
Honestly, when we started the shop we did not know very much about Moomin, more than that we became frightened by Groke through the Japanese series that was shown on TV sometimes when we were growing up. But now, as adults, we have a completely different relation to these cute little trolls. And of course, we are both fans and collectors now, although our own collections aren't very large yet. But we're working on it 🙂
What are your most popular Moomin products?
MUGS! Both porcelain and enamel. Right now there is a big demand on the pretty Keep Sweden Tidy mugs. The pink one that has been very popular this year and the new blue one that comes in spring 2016, we already see that many choose to pre-order for us to be sure to get it. The love mug is a year-round bestseller too.
If you could design your own Moomin Mug, how would it look like?
Oh how difficult, there are already so many nice ones. We have a predilection for the graphic black and white so it could be a black and white mug with an original drawing from Tove's books. Perhaps a map of Moomin Valley would be nice?